Thematic Initiatives
The law is embedded in social, cultural and economic understandings of right and wrong. The quest for human rights and women's equality involves engaging with the law, and beyond that, with the social, economic and cultural structures and discourses that shape women's rights, freedoms and justice. Our work has focused on the following inter-connected themes and frameworks that promote and protect women's equality:
Access to Justice
We work with community groups to develop systems and capacities necessary for effective legal support, monitoring and documentation of rights of marginalised women. The support centres in four states, Orissa, UP, Rajasthan and Kerala in the initial 6 years of PLD's work, led to documentation and insights into experiences of urban poor and rural women with the law, when supported by a community groups. This work provides an understanding of types of violations for which women are most likely to approach the law, and the preferred legal remedies; as well as violations are least likely to result in legal action; and the obstacles ordinary and poor women encounter in the law despite the support from dedicated social workers. Based on the experiences of women navigating the legal system, this work is foundational to our understanding of the limits and possibilities within the law, and equally, the divergent notions of justice within and outside of the legal system.
Sexuality
Our work explores the interconnections between sexual norms, marginalisation/ exclusion and access to justice. This work addresses discriminatory legal treatment of non-normative intimacies and the lack of legal protection to women in non-marital conjugal relationships. Our socio legal documentation of women in diverse family forms, such as Maitri karar in Gujarat, Nata in Rajasthan, male bigamy in Himachal Pradesh, same sex relationships in Kerala, has shaped our advocacy initiatives – for expansion of the legal definition of wife to one that includes customary and live-in relationships; for rejection of compulsory registration of marriage on grounds that as it will restrict rather than enable women's rights within diverse family forms; for decriminalisation of homosexuality, adultery and consensual adolescent sexual expression; and for non discrimination on grounds of sexual orientation and gender identity. This thematic stream also includes monitoring and advocacy for gender sensitive prosecution and holistic legal redress for sexual violence in all its forms and manifestations.
Culture
Culture is arguably most widely used and readily accepted justification for discriminatory laws and practices against women. PLD's work endeavors to bring out the fluidity, heterogeneity and power inequalities within communities, to strengthen efforts to reject discourses that present cultures, communities and practices as static, unchanging and homogenous. Through field studies, discussion/ exchange platforms, comparative analysis, documentation, our work highlights the fluid, contested and political sphere of culture; and our advocacy efforts promote the individual freedom to chose, exit, re-enter, disagree, and participate in multiple cultural spaces as part of the exercise of cultural expression and diversity. Our work on witch hunting across regions in India shows that the material, patriarchal, gender and caste underpinnings get obscured in framing the issue in terms of superstition and culture.
Violence Against Women
We have been involved in the law reform process of the women's movement for over two decades. These efforts culminated in criminal amendment act 2013 and the sexual harassment at the workplace act of 2013. Our efforts have been to focus on areas of victim care, reparation, and procedural justice.
CEDAW
CEDAW, known as the Bill of Rights for Women, the UN treaty has been ratified by India (and indeed all South Asian states). PLD is a leading resource group on CEDAW, providing information and knowledge resources through publications, a dedicated website www.cedawsouthasia.org , and training programmes. Our work on CEDAW combines technical guidance with contextual grounding in culture, sexuality, violence against women, and access to justice. We conduct training programmes at local, national and South Asian levels; and offer trainings on request.
Feminist Law Archives
Access a collection of memorandums, reports, petitions that reflect feminist contestation and engagement with the law. Recognising the rich contribution by the women's movement, and its impact on legal developments and feminist legal discourse, this section makes accessible advocacy materials that are not ordinarily published. We invite you to share similar materials for uploading, so as to make our collective struggles with the law widely available.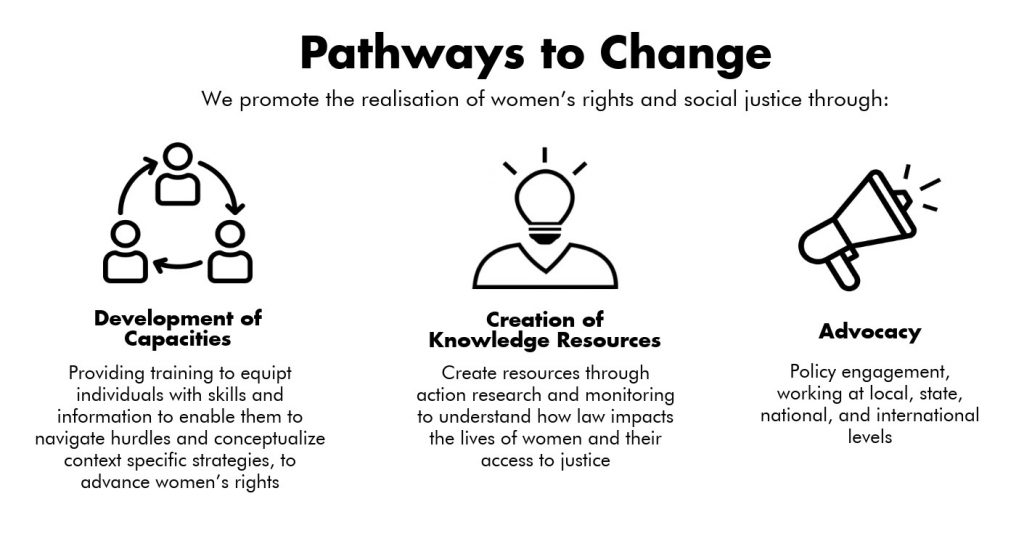 Development of capacities
Capacity is the ability of individuals, organizations, or systems to perform appropriate functions effectively, efficiently, and sustainably. Development capacities involves human resource development, the process of equipping individual with the understanding, skills, and access to knowledge that enables them to perform effectively. It involves an approach to development that acknowledges and challenges the barriers facing stakeholders in the realization of their goals. Capacity building has been a key pathway adopted by PLD to bring change where trainings comprise not only information sharing, but perspective building, agenda setting with a focus also on skills and strategies for field application. PLD has been involved in capacity development on human rights and women's equality through training programmes, perspective development, information dissemination, and platforms for sharing and exchange.
PLD's strategic focus for (2013-2018) is on the three new laws relating to sexual violence, viz. The Criminal Law (Amendment) Act, 2012; Protection of Children from Sexual Offences Act, 2012; and the Sexual Harassment of Women at Workplace (Prevention, Prohibition and Redressal) Act, 2013.
To view our initiatives for Capacity Development, Click Here
Creation of knowledge resources
The creation of knowledge is the examination of ongoing experience in a specific domain with new developments, and to frame this within a political perspective of power relationships so as to serve the goals of gender and social justice. This approach filters information rather than simply transmitting it. Since its inception, PLD has placed special emphasis on creation of knowledge resource rights, to document and make available resources on alternative lawyering, women and the law, CEDAW, access to justice – for an audience of practitioners engaged in implementation, change, and policy work. PLD's target is to create non-academic resources that capture nuances and complexity, while remaining accessible to various stakeholders and change agents. We engage in creation of knowledge resources through action research and monitoring to understand how law impacts the lives of women and their access to justice, and through the production of information, education, and communication resources.
To view our Knowledge Resources, Click Here
Advocacy 
Policies involve rules, perspectives, and ideologies that shape norms, allocation of resources, and needs of persons from a rights-based perspective. Policy engagement is working with policies at local, state, national, and international levels. Policy interventions undertaken by PLD span public hearing at the block and district level, to state level conferences with stakeholders, creation of documentation for national and international levels, and use of UN human rights mechanisms for promoting accountability and compliance with constitutional standards. At the international level, PLD has been instrumental in advocating for complaints of domestic law and policy with human rights standards through CEDAW, UPR, and the UN special mechanisms. At the national level, PLD contributes to shadow reports to CEDAW, multi-stakeholder reports to UPR, and submissions to special mechanisms. PLD engages significantly in grassroots training programs on CEDAW, witch hunting, gender justice, and the creation of new legal frameworks. Our approach to policy is organic, engaging as and when it arises and across the spectrum for opinion building.
To view our initiatives in Advocacy, Click Here
These interventions lie primarily within the domain of four inter-connected thematic areas – Access to Justice, Sexuality, Culture, Violence Against Women, CEDAW, and Feminist Law Archives