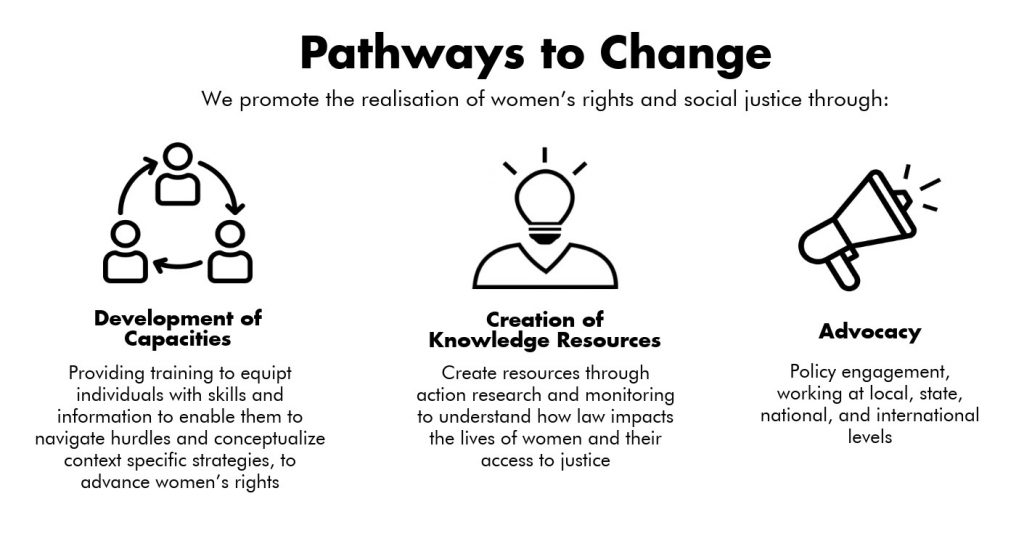 Development of capacities
Capacity is the ability of individuals, organizations, or systems to perform appropriate functions effectively, efficiently, and sustainably. Development capacities involves human resource development, the process of equipping individual with the understanding, skills, and access to knowledge that enables them to perform effectively. It involves an approach to development that acknowledges and challenges the barriers facing stakeholders in the realization of their goals. Capacity building has been a key pathway adopted by PLD to bring change where trainings comprise not only information sharing, but perspective building, agenda setting with a focus also on skills and strategies for field application. PLD has been involved in capacity development on human rights and women's equality through training programmes, perspective development, information dissemination, and platforms for sharing and exchange.
PLD's strategic focus for (2013-2018) is on the three new laws relating to sexual violence, viz. The Criminal Law (Amendment) Act, 2012; Protection of Children from Sexual Offences Act, 2012; and the Sexual Harassment of Women at Workplace (Prevention, Prohibition and Redressal) Act, 2013.
To view our initiatives for Capacity Development, Click Here
Creation of knowledge resources
The creation of knowledge is the examination of ongoing experience in a specific domain with new developments, and to frame this within a political perspective of power relationships so as to serve the goals of gender and social justice. This approach filters information rather than simply transmitting it. Since its inception, PLD has placed special emphasis on creation of knowledge resource rights, to document and make available resources on alternative lawyering, women and the law, CEDAW, access to justice – for an audience of practitioners engaged in implementation, change, and policy work. PLD's target is to create non-academic resources that capture nuances and complexity, while remaining accessible to various stakeholders and change agents. We engage in creation of knowledge resources through action research and monitoring to understand how law impacts the lives of women and their access to justice, and through the production of information, education, and communication resources.
To view our Knowledge Resources, Click Here
Advocacy 
Policies involve rules, perspectives, and ideologies that shape norms, allocation of resources, and needs of persons from a rights-based perspective. Policy engagement is working with policies at local, state, national, and international levels. Policy interventions undertaken by PLD span public hearing at the block and district level, to state level conferences with stakeholders, creation of documentation for national and international levels, and use of UN human rights mechanisms for promoting accountability and compliance with constitutional standards. At the international level, PLD has been instrumental in advocating for complaints of domestic law and policy with human rights standards through CEDAW, UPR, and the UN special mechanisms. At the national level, PLD contributes to shadow reports to CEDAW, multi-stakeholder reports to UPR, and submissions to special mechanisms. PLD engages significantly in grassroots training programs on CEDAW, witch hunting, gender justice, and the creation of new legal frameworks. Our approach to policy is organic, engaging as and when it arises and across the spectrum for opinion building.
To view our initiatives in Advocacy, Click Here
These interventions lie primarily within the domain of four inter-connected thematic areas – Access to Justice, Sexuality, Culture, Violence Against Women, CEDAW, and Feminist Law Archives