Women, Culture and Access to Justice
Negotiating Gender Justice, Contesting Discrimination (2010)
This report documents diverse strategies adopted by community groups in Bangladesh, India, Indonesia and Nepal to negotiate women's rights in the context of culture, while grounding the strategies in the specific political – historic local and national contexts. It looks at secular strategies along with the more recent responses to fundamentalism,that use of cultural identity and religious/ cultural resources.
Intersections Between Women's Equality, Culture & Cultural Rights (2010)
This report documents the process of understanding cultures and cultural transformations that embrace and promote women's rights. It involved mapping discursive interventions across Bangladesh, Indonesia, India and Nepal.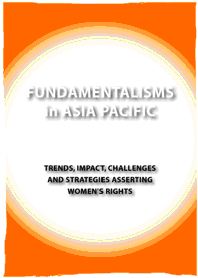 Fundamentalisms in Asia Pacific (2008)
These admittedly political strategies that use cultural resources seek to contest not just sex discrimination, but also the orthodox, elite, male monopoly of cultural leadership. The report provides a rich account initiatives that promote culture as relational, transforming, plural and accommodating of women's rights, and in doing so, challenge dominant static and fundamentalist assertions of culture.
The report is an outcome a workshop held in Puri, Odisha in 2006. The workshop was aimed at developing an understanding of the relative concept of gender law and human rights and the relation between these. It further aimed to develop an understanding of the concept of gender in general, its implications for individuals, family, society, State and legal system.
Women and Access to Justice (2006)
This conference report consolidates the concerns of activists, judges, lawyers and academics on barriers to accessing the legal system for women. Documenting voices of women pursuing justice through the law, perspectives of support/ service providers, and the judiciary, the report identifies the structural, operational and substantive barriers to accessing gender justice. In doing so, it highlights the divergent of notions of justice – contrasting those of the women pursuing justice and the different actors in the legal process.