Violence Against Women
Workshop Report: The Journey From victim to Survivor, Challenges for Justice (2016)
This report has come out of our national workshop on "The Journey from Victim to Survivor: Challenges for Justice", organized jointly by CWDS and PLD in February 2016 in memory of Professor Lotika Sarkar. With participation of women's rights, child-rights, disability rights, minority rights, Dalit rights, queer rights activists and counsellors amongst others, the workshop sought to understand justice in terms of recovery and healing of victims of violence. Victim-centric interventions like compensation, comprehensive crisis support, shelter-homes and counselling were some themes discussed.  The report captures the presentations and discussions on each of the themes.
Booklet on Protection of Children against Sexual Offences Act (POCSO)
The resource book in Hindi on Protection of Children from Sexual Offences Act (POSCO), 2012 titled 'Bal Yaun Soshan par Kanoon' was published in 2016. The comprehensive, context specific book discusses the law, its background, objectives and scope, as well as its core concepts; it details the offences, procedures and special mechanisms constituted to implement the law, incorporating relevant provisions from the Juvenile Justice Act, Criminal Procedure Code and the National Commission for Protection of Child Rights Act, in addition to the main law, POCSO.
Booklet on Sexual Harassment of Women at Workplace (Available in Hindi and Telugu)
The book 'Karyasthal Par Mahilaon Ka Yaun Utpeedan' is a comprehensive guide on The Sexual Harassment of Women at Workplace (Prevention, Prohibition and Redressal) Act, 2013. Written in simple language, it is accessible to grassroots workers, committee members and lawyers alike, and enables implementation of the Act in a gender-just manner. The guide explains the provisions of the legislation, and also administrative and civil procedures not spelt out in the Act, but necessary to conduct inquiries as per the rules of natural justice. The book was published in Hindi in 2015 and in Telugu in 2017.
Contemporary Practices of Witch Hunting: A Report on Social Trends and the Interface with Law (2015)
This socio legal study, the first of its kind in India, provides evidence of contemporary social trends of witch hunting, and the interface of witch hunting related victimization with law. It draws upon a variety of sources: case studies from select blocks in the districts; police records collected from Jamui, Bilaspur , Gumla and Ranchi for the years 2010 to 2012; and High Court and Supreme Court judgments from ten states.The study thus offers an evidence based critique of current trends in law and policy making in response to incidences of witch-hunting.
Witch Hunting in Assam: Individual, Structural and Legal Dimensions (2014)
The report based on a study undertaken collaboratively by the three organizations, draws its findings from police reports and 16 case studies of victims from Goalpara and Sonitpur districts of Assam. Using ethnographic data, the report highlights the continuum of violations connected with witch hunting, also bringing into focus structural causes that make it possible to rationalize conflicts and losses through witch hunting; It points towards gaps in law and justice in police inaction and lack of preventive and reparative measures that enable a continuum of violations.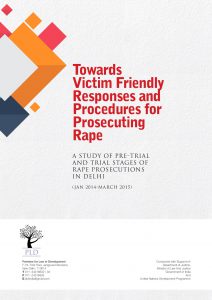 A Study of Pre-Trial and Trial Stages of Rape Prosecution in Delhi (2014-2015)
A report of a by PLD to monitor compliance with gender sensitive procedures in rape prosecutions. Conducted under the aegis of Department of Justice and the UNDP, the report draws upon trial monitoring of 16 cases of rape across 4 fast-track courts in Delhi, victim interviews, examination of case records and comparative and domestic law research. It concludes with recommendations that seek to strengthen victim centric measures to support women prosecuting rape.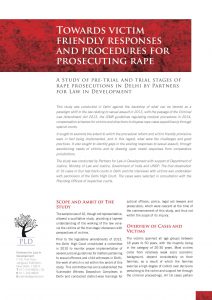 Summary Findings of PLD's Study on Rape Trials in Delhi (2013)
A four page summary document of PLD's report on Rape Trials in Delhi.
Piecing Together Perspectives on Witch Hunting: A Review of Literature (2013)
From the European witch-craze in the 16th century to modern day African witchcraft beliefs and contemporary cases of violent witch-hunting in India, history has been witness to witch-hunting across time and place. Why have witch-hunts taken place in the past? What makes them endure to the present? How are witchcraft beliefs different from place to place? What is the role of gender in witch-hunting? This review of diverse materials including scholarly articles and NGO reports tries to answer these questions and more from a feminist perspective, and attempts to piece together varied understandings on witch-hunting so as to find ways forward in which to respond to ongoing attacks on women in the name of witch-hunting.
Targeting of Women as Witches: Trends, Prevalence and the Law in Northern, Western, Eastern, and Northeastern Regions of India (2012)
The report is an outcome of 3 consultations held in Northern, Eastern, Western and Northeastern regions of India by PLD in partnership with state organisations, with the support of the NCW. The report maps the trends of violations inflicted on women in the name of witch hunting, its repercussions, and the role of the state and the law.  The report also offers recommendations that are instrumental to advance justice to the survivors of witch-hunting.