Law, Society & Social Justice
These resources look at theory and practice of law to surface its political economy and the exclusions resulting from it. It also documents and explores the potential of alternative law strategies in social justice initiatives.
These resources complement and are drawn from training workshops and consultations on the respective themes
To download soft copies of the resources or purchase hard copies, email resources@pldindia.org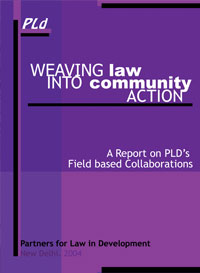 Weaving Law into Community Action (2004)
A review of 6 years of PLD's partnership programme. It profiles the work of the field-based partners, discusses PLD's contribution to their work and assesses the impact of collaborations giving insights into the gains and challenges of such partnerships. To view the report click here.
The title, like the report, alludes to applications and practice of law beyond the courtroom and court appearances. It documents field-based strategies in alternative law in different parts of India, setting out the relevance of alternative law practices for social justice in the context of India. To view the report click here.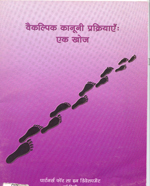 Vyakalpik Kanooni Prakriyaya (2003)
Literally, this translates into 'alternative law processes'. This report is a Hindi trans-creation of 'Beyond Appearances'. To view the report click here.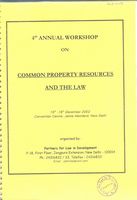 Common Property Resources and the Law (2002)
The workshop report outlines the conceptual framework of CPR, identifying challenges within the law. It documents the rich discussions on legal strategies used by field-based activists for asserting rights in relation to forest, water and land within the framework of CPR. To view the report click here.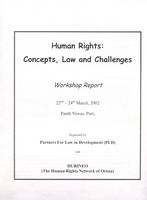 Human Rights: Concepts, Law & Challenges (2002)
This workshop report typifies approaches to conducting a state-level programme on human rights. It contains tools to facilitate discussion on the human rights norms, contextualising universal norms in relation to local issues and strategies and provides the national framework for justiciability of human rights. To view the report click here.
The workshop report outlines the diverse ways in which groups in India are integrating law in social action, discussing perspectives on action research, advocacy, quasi-legal intervention and legal literacy. It then documents the discussions on possibilities and limitations as experienced by PLD and its partner organisations in relation to specific issues and contexts. To view the report click here.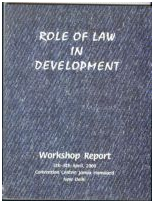 Role of Law in Development (2000)
This workshop report focuses on alternative legal processes through three-way collaborations between community groups, local lawyers and PLD. This report documents group discussions on case studies that surface the political economy of law and the creative strategies in law to challenge marginalization. To view the report click here.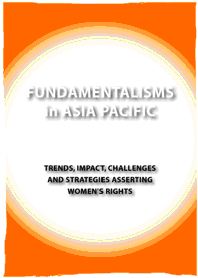 Fundamentalisms in Asia Pacific (2008)
This is a Asia Pacific Forum on Women Law and Development Publication, to which PLD has contributed.To view the report click here.